What I miss most about Christmas in Germany is the Christmas markets: Hot chocolate, candied nuts and Glühwein bonbons, baked fish in a roll or a plate of steaming soup. It is a feast for the senses, though unfortunately one foreign here in the States, forcing us to be creative in making the most of the season.
When I was a younger, my family built gingerbread houses out of honey bread, chocolate, and a mix of other candies as decorations. We called them "Hexenhäuser"—witch houses—and even had little plastic witches with little black cats to put in the scene. I wanted to eat German candy my children to experience the magic of these edible houses, so I asked my Mom to send me the honey cakes and other ingredients we cannot find here so we could make them, too. Not surprisingly, it's an annual hit.
Another culinary staple are our spekulatius rum cookies. The final product stays good (and actually improves in taste!) over time, but we never managed to make them last that long—they are just too good.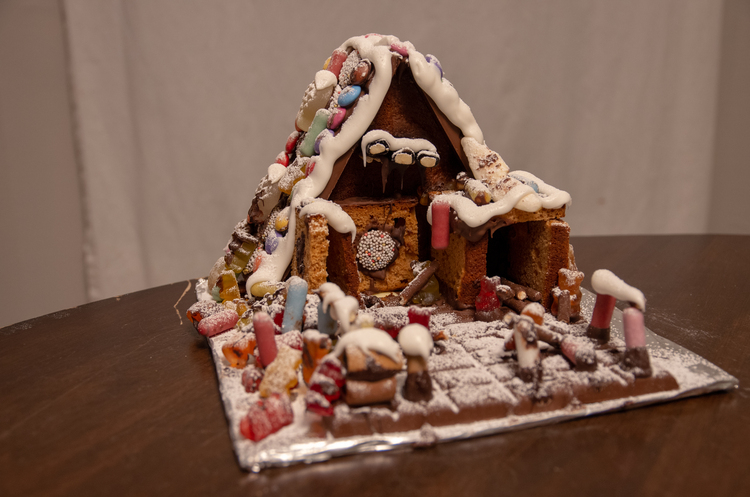 Christmas lights create an incredible cozy mood. While I enjoy driving around to find the best Christmas lights around town1, my focus has been decorating the inside more than the outside. The first light strings leave the attic with the fall decorations to create indirect lighting in our family room, but the full ensemble only enters the scene after Thanksgiving. We decorate windows, book shelves, and kid rooms, again something I grew up with. I loved peeking out of my bunk bed at the only window in the room, outlined with lights that bathed the whole room in their many colors. I think my kids share that love.
Our Christmas tree is real for one reason: the smell. By now that smell has probably been captured in essential oil bottles, but that's cheating, so the only time to enjoy it in my living room is Christmas time next to a real evergreen. With everything in place, my favorite time is spent in my reading chair, close to the tree, with a crackling fire, and only Christmas lights illuminating the room.
None of these traditions are necessary for Christmas. Some don't even directly relate to Christmas at all and are just an amalgam of things we grew up with. You won't find any of them in the Bible. But I think that's okay, as long as we don't lose sight of what makes Christmas Christmas. All the other stuff can contribute to making the season just a little bit more memorable by engaging all our senses.
---
You can check out a little side project I made: Rate the Lights, a way to crowdsource the best light displays in town. ↩︎