When I grew up we had to use fountain pens in elementary school. (I recently saw someone post a picture of the model I used to have—a "Lamy abc" with a left-handed nib!—and seeing it brought back some memories!) In secondary school no one cared how we wrote, so I started using pencil. In college I revived my fountain pen use, but there is only so much to write by hand for an engineering student with a laptop. If I was going to stick with it this time, I needed more excuses to write.
As the proverb says: "The faintest ink is better than the strongest memory." I started journaling. I am not really the journaling type, but what better way to write regularly? Like so many other things, I had to own it and do it my way, so after a bit of research I settled on a Hobonichi Techo planner. I like it because it's Japanese, has nice paper, and is just the right size. Besides the daily entry I record when we have people over for a meal and which books I've read this year so far. I don't know if will go back and read past entries, but even if not, I don't consider the time wasted.
Because writing is therapeutic. The feel of the pen in my hand, the sound of the nib gliding across the paper, the sheen of the wet ink drying into different shades of color, all contribute to the experience of writing. I find early mornings best for this, when everything is quiet and I can actually hear the feedback of the pen (think sound of a pencil on paper). Evenings are good, too. Depending on the paper, nib, and ink, different characteristics come out, like shading; ink in my extra-fine pen looks very different than the same ink in my 1.5 mm calligraphy pen, as you can see below.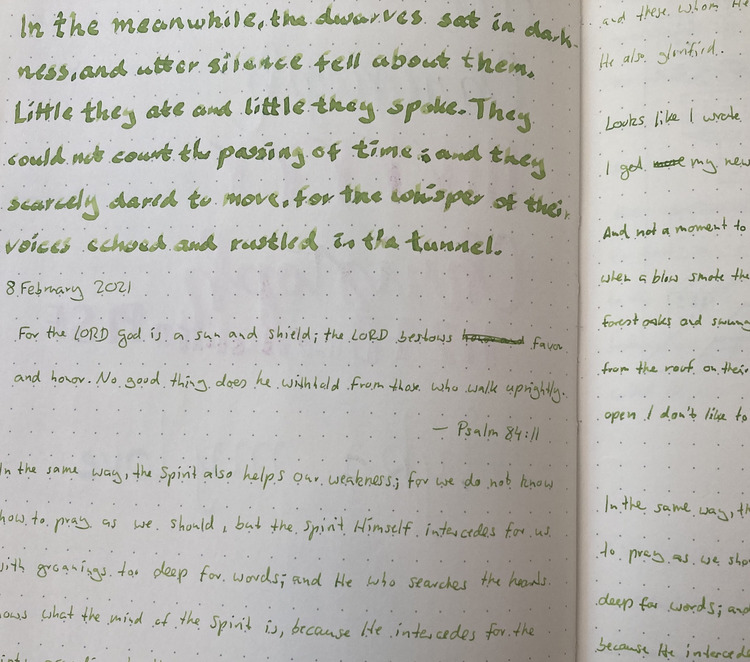 Where journaling is inward-focused, writing letters focuses on others. My handwriting looks better when I write bigger, so I reserve my larger pens for correspondence and keep my finer pens for journal entries only I have to decipher. I also have different kinds of stationary, providing great variety of paper-pen-ink combinations which make writing so enjoyable. By far the greatest benefit of writing letters is the reaction of the recipient. Part of that is probably the loneliness that has come with COVID restrictions, but we've found that a few specific words of encouragement (most of my letters have been less than a page of A5 paper) are most welcome. Getting the mail is also more enjoyable when you can expect an actual letter amidst a flood of junk mail and bills.
With COVID restrictions still in place, why not pick up a pen and some paper and write an encouraging letter to someone this week?
Cover photo: An early pen sketch. I like drawing perspective. Should've used a better eraser…